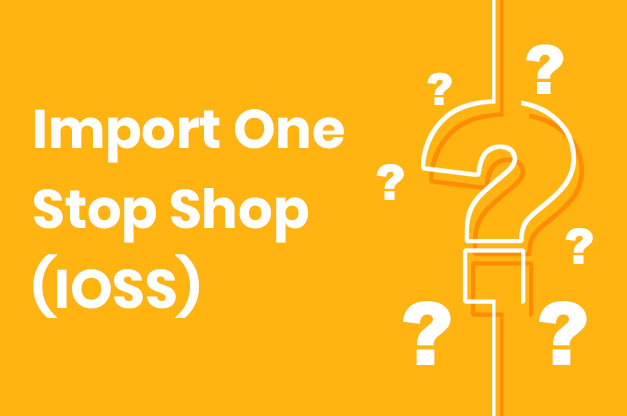 What is the IOSS?
As part of the EU VAT eCommerce package, the European Commission introduced the Import-One-Stop-Shop (IOSS) to simplify VAT obligations on distance sales of imported goods.
With the new VAT rule as of 1 July, 2021, all goods imported into the EU from a third territory will be subjected to VAT declaration and payment irrespective of their value.
Why was the IOSS created?
The Import-One-Stop-Shop (IOSS) was created to simplify VAT declaration/payment for eCommerce sellers and online marketplaces on distance sales of imported goods with a value not exceeding EUR 150. The new VAT rule simplifies the overall custom declaration process and enables a fair trade between the EU and non-EU online sellers.
How does the IOSS scheme work?
Online Sellers: IOSS registered online sellers will have to apply VAT when they sell goods destined for a consumer based in any of the EU Member States. VAT rates will be applied based on where the goods get delivered in the EU.
Facilitating marketplaces:  Facilitating marketplaces (electronic interfaces) registered for IOSS, will have to collect and pay VAT to the responsible tax authorities – instead of the actual seller collecting VAT on sales made to a buyer in the EU. VAT rates will be applied based on where the goods get delivered in the EU.
What has changed as part of the IOSS?
Withdrawal of Low value consignment relief (LCVR): VAT exemption on imported commercial goods of value up to EUR 22 has been withdrawn. Instead, all commercial goods imported into the EU will be subjected to VAT declaration and payment with effect from 1 July, 2021.
Online marketplaces as deemed suppliers: Facilitating online marketplaces (eCommerce platforms) will act as deemed suppliers on all distance sales to EU customers. Which means the actual seller will not be accountable for VAT on sales made in the EU, instead the facilitating market (Amazon, eBay and so on) place will have to collect VAT at the point of sale.
Seamless shopping experience for consumers in the EU: The EU customers get to enjoy transparency in pricing and will be charged only once during the time of purchase. As a result, buyers don't have to face any surprise bills during the time of delivery which improves their overall shopping experience.
Custom clearance is simplified: The Import OSS scheme removes the need for sellers to pay import VAT at the customs clearance. However, this is applicable only for low-value consignments not exceeding EUR 150. If the value of your imported goods exceeds the set VAT threshold, then you will be subjected to import VAT.
What does the IOSS cover?
The IOSS covers distance sales of goods under the following scenario:
Dispatched or imported goods with a value not exceeding EUR 150

Goods imported to the EU at the time they are sold

Not subject to excise duties
All imported goods with a value of above EUR 150 will be subject to the usual import tax and other customs clearance procedures.
How is the EUR 150 limit calculated?
Only goods imported and shipped as a single package with a value of EUR 150 qualifies for IOSS. As mentioned above, any goods of any value subject to excise duty is also excluded from IOSS.
Who is affected by the changing EU VAT rules?
All online sellers and facilitating marketplaces involved in the eCommerce supply chain are affected by the changing EU VAT rules.
Online sellers: Long distance sellers selling low-value goods within the EU or importing from a third country into the EU through a website or facilitating marketplace.
Electronic platforms: Also known as online marketplaces who facilitate sales into the EU (Amazon, eBay, AliExpress, and so on)
Postal operators and courier services: Postal operators and couriers will have to collect VAT collect VAT for each shipment and will have to check customs clearance for all products.
How can I register for IOSS?
Online sellers: From 1 April 2021, businesses can register online for IOSS on any of the EU Member State. Once registered, it applies for all long-distance sales on imported goods to EU customers.
If you are a non-EU established business, then you'll have to appoint an EU based intermediary who is registered with tax authorities in their country of origin.
Also read: The New EU 2021 IOSS: Role of a IOSS VAT Intermediary
Is IOSS mandatory?
No. The IOSS registration is not mandatory to sell goods or services to buyers in the EU. But if your business is registered for the new EU VAT IOSS scheme, then you should conduct all sales to EU customers through the IOSS system.
What happens if I am not IOSS registered?
Online sellers and marketplaces who are not IOSS registered will have to pay VAT on imported low value goods similar to how VAT is paid on higher value goods during customs clearance. This will cause a delay in delivering goods as the customers will receive them only after VAT has been paid. 
What should a non-EU eCommerce seller do?
A non-EU established seller imports goods into the EU, will have to appoint a tax intermediary who is a taxable person established in the EU. The IOSS VAT intermediary acts as an agent and becomes fully responsible to file/submit IOSS VAT returns to EU tax authorities on behalf of their clients (non-EU sellers and facilitating marketplaces).
The VAT intermediary receives an IOSS VAT identification number for each of their clients and they become responsible to observe VAT obligations laid down under the IOSS regime. 
Can a EU seller register for the IOSS?
EU based businesses making sales to the EU customers from goods located outside of the EU can choose to register for Import OSS. This will be beneficial, if the seller has a customer base in pan-EU nations – as he doesn't have to deal with VAT registration/payment in multiple European countries.  
Can I offset VAT using IOSS tax return?
No. Unlike specific jurisdiction, you cannot reclaim input VAT using IOSS tax return. The IOSS allows only payment of output VAT.
Should I still complete the VAT return in my own country?
Yes, the IOSS is an additional VAT requirement for all the online distance sales you make in the EU. You should still continue to follow VAT obligations set by your country. 
Amazon seller
B2B VAT
EU IOSS VAT Intermediary
EU VAT E-commerce rules
Import-One-Stop-Shop
IOSS